Amok Draumr
- Hammocks for Backpacking and Camping
The hammock for those who like to sleep comfortably and wake up feeling refreshed. In Draumr you can lie flat on your side, back and stomach.

Draumr can easily be modified from flat bed into seated position. Turn the hammock upright like a chair simply by adjusting the straps inside the hammock.

Do you like panoramic views? Draumr hangs transversely compared to traditional hammocks, which gives a fantastic view of the nature scenery around you.

The hammock has a pad pocket to keep your sleeping pad in place. The sleeping pads that fit in Draumr can also be used in tents and on other outdoor adventures. You don't need a specially adapted 'underquilt' or 'hammock pad'.

The included tree straps ensures an easy set-up. Drip-stoppers prevent water from running down the straps and into the hammock.

Practical bottle holder and plenty of storage pockets

Integrated and very durable insect netting that protects well against mosquitoes and other flying creatures. Smooth zipping with 3 sliders. You can use the zipper in both directions to make an opening anywhere you want.
Draumr 5.0 & Draumr Ultralight
Draumr 5.0 and Draumr UL share all the same features, but Draumr UL is made from lighter fabrics and materials. Both variants are avaliable in standard length (SL) and extra long (XL).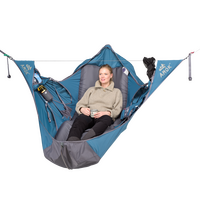 Draumr 5.0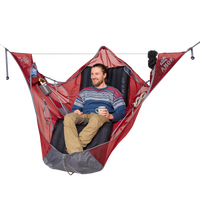 Draumr Ultralight
Packed Volume (compressed)
SL: Starting at 274,95 $
XL: Starting at 299,95$
*depending on color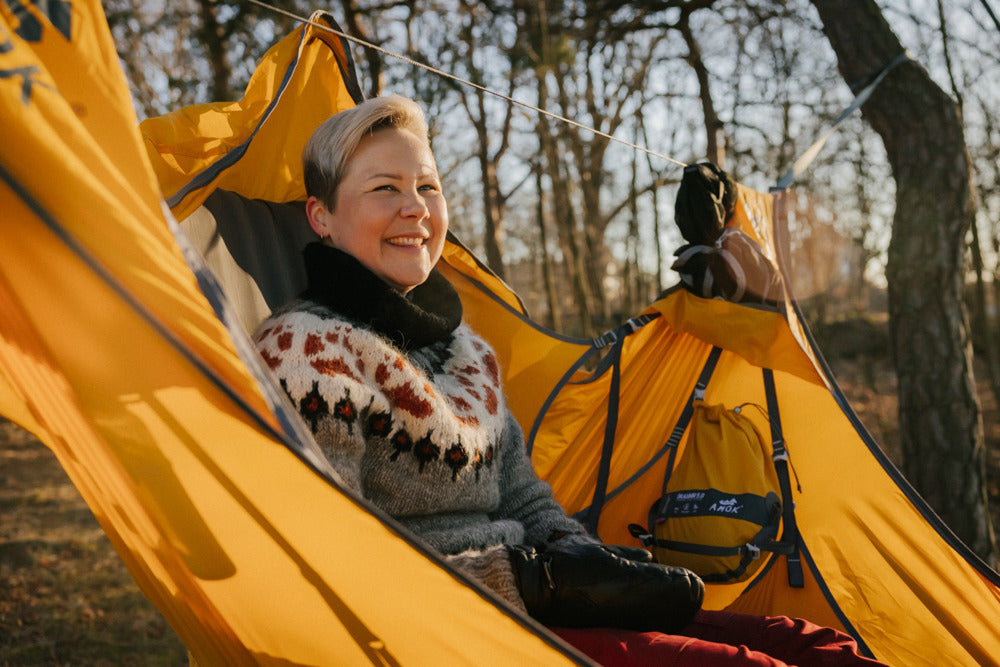 Want to make sure you have the coolest hammock in the woods? Press "Shop Draumr" - we can almost guarantee you won't regret it.
If you want to learn more about the concept we recommend checking out our FAQ.
A complete kit
All Draumr hammocks come with a bug net and suspension kit included. In addition you need a suitable sleeping pad, and we highly recommend a tarp and pole set.

Sleeping pad (required) - The pad contributes to a spacious and comfortable hammock, and it gives great support when lying down or sitting up in chair mode. See our pad portfolio.

Tarp - A good tarp can make or break your camping experience. The tarp will help you protect your hammock and other gear when it's raining, it can create shelter from the wind or a cooling shade in hot summer weather. See our tarp portfolio.

Pole set - Both Draumr 5.0 and Draumr UL have holders for stiffeners in the foot- and head end. You can place a suitable length branch or stick into these holders, which lifts the mosquito net and gives a greater feeling of space. By using our pole set instead, you'll save time and leave no trace on your trail.